LISTING OF GREAT RETIREMENT INCOME IDEAS
Each of the ideas described can be adjusted in many ways to fit your own needs. The purpose is to give you a basis to thrive in retirement. Let's get started.
1. SERVICE BASED BUSINESS

This is a fairly inexpensive way to start a business. The key is to find something that other people will pay you to do.
It may be a simple as pet care in one or many aspects,
You could base it on your skill sets, such as bookkeeping or landscape services.
For those that are multi-talented, your business could be that of a virtual assistant.
You may find a start to your service business by contacting your former employer to determine if you can provide assistance to them.
2. CONSULTING / COACHING / MENTORING

You probably have extensive experience in your work career. You are very knowledgeable and willing to help others. Entrepreneurs and companies each require certain qualities for positions to help make them successful.  You have those qualities.  Now it is time to share your knowledge and skill set with others who desire to enter that area. Think of the joy you will have as you help someone fulfill their own dream.
Consider who would best be your clients.
Consulting - Most likely, we are talking about working with businesses rather than individuals. Companies my be looking to increase productivity or sales. Providing expert advice on the latest technical areas may be your area.
Coaching - Individuals, rather than companies, would probably those interested in obtaining your services. It could be as a life coach or a specialist, such as an interview coach or productivity coach.
Mentoring - The clients in this business would definitely be individuals, especially as it relates to a career field. The client would want to find people who are experienced and qualified in their field. The mentors want to help others to understand all elements of the the career area in which their clients are interested.

More Great Ideas
For Retirement Income

The more that a person knows what to expect in a new career field, the more they can prepare and be successful in addressing at the right time. Career mentoring presents one of the best retirement income ideas, in my view, as it allows a person to:

Set their own schedule,
Select their rate to charge a client
Share knowledge of a subject they know so well
Enjoy helping others in their life choices
Earn extra income
Since so many people are considering a change career, the need for career change mentors is increasing.  I suggest you consider becoming a mentor yourself.

3. TUTORING

You may find that others may want to learn how to accomplish things in the way that you have done for many years.  We could be talking about:

Welding
Starting a business
Bookkeeping
Project Management
Other areas
4. BLOGGING / WRITING

The world looks up information using Google and other search engines. To join in supplying great information and entertainment and be successful, you should identify the subject matter that is in demand, but has a limited supply.  In that case, you are more likely to be found during a search.
There are just so many ways in which you can provide information to others.
Were you an accountant or a financial person? If so, people would want to know tips about reducing their taxes and how to improve their financial situation.
If you had an interest in cars and perhaps restored a classic car like I did, you could describe the process with photos and tips for others. Sharing ideas and information brings more traffic and the opportunity for ads and affiliate marketing.
Are you into cooking? There are just so many directions you can go in the world of food. People are always looking for great and unusual recipes. Turn your knowledge into a successful website like Gerhild Fulson of Quick-German-Recipes (Just Like Oma). See how successful she has become.
Is travel your main goal in retirement, but you would like more income as well? You can do it!  Others have done just that. Say you have an RV or a Van and enjoy visiting new locations. You always use your RV or van. Great! Write about it on your website.
You could find all sorts of affiliate relationships to earn income. Add in Google Ads and even sponsorships for RV sites, restaurants, and other related ideas. See how these RVpreneurs did it.
Don't forget to research to find the prime photo and image suppliers available. It is important that your site images are quality and fit well into your niche. One supplier that I feel offers some of the some of the leading images, photo, and videos available at reasonable prices is Depositphotos . Take a look to see the value they offer.

In fact, any of the business opportunities that I described in Service Based Businesses, Consulting/Coaching/Mentoring, Tutoring, and using your hobby (described below) could be broadened by setting up your own web business.
5. USE ONLINE STORES FOR YOUR OWN PRODUCTS

You can plan to get rid of all of your unwanted items by selling them online. With online stores such as Etsy, Ebay, Zazzle, and the big one Amazon, you can sell those items you want to get rid of and items that you make yourself. This is especially true of homemade goods and crafts.
Zazzle is a one place that is worth considering. This is a great time do make something you enjoy and then make money selling your items.
6. TRANSFER YOUR HOBBY INTO A BUSINESS

Your hobby may be just the target for one of the great retirement income ideas. It is probably something that you enjoy doing. Sharing it is the way to begin earning additional income.
There is a step-by-step process know as the Action Guide to help direct you to bypass mistakes and improve your opportunities for success.
We could be talking about almost anything like gardening, photography, home baked cookies, your dog, cat, horse or even chickens. This applies to most anything like even toy making in the back shed .

You have the opportunity to talk with someone who knows and enjoys the Solo Build It! process as a mentor helping others understand more about it before joining up. Learn more about Don here and then set up a mentoring session for an hour to get your questions answered.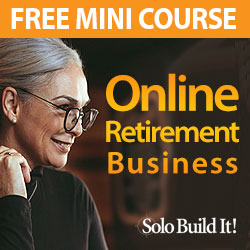 37 ADDITIONAL RETIREMENT INCOME IDEAS

Here is your surprise…37 more ideas .

It is time to broaden your thinking to evaluate many options to earn extra income. Some of these are discussed above but you may gain additional insight by the discussions in this article.
Spend some time going through this list. Your new role just may be there.
BEST IDEAS FOR BEGINNERS


Let's face it. If you are new at something, you are little unsure and it takes longer.  True!
But the best approach for beginners searching for the best retirement income ideas is to start a blog on a specific niche or start a website .

Nothing is as valuable as your own platform. Facebook, Instagram, or YouTube just don't compare to the control you have over your own business website or blog.
Be sure to examine Depositphotos for access to unsurpassed group of photos and images for your selected niche.

If you have questions about building your own blog or website, feel free to contact me, visit my mentoring page or reserve a mentoring session with me .
It is time to start.